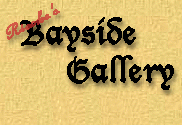 SITE MENU







Riecke's
Bayside Gallery
Box 363 - 482 Electric Avenue
Bigfork, MT 59911
(406) 837 5335



How To Order



To place an order or for more information on an item call us at 406 837 5335 or contact us by email.


Return Policy



We understand how someone may hesitate to order an item they have never seen.

What if you don't like it when it arrives?

The items featured on our website have proven to be popular with visitors to our gallery and for that reason we feel confident you will be pleased with them too.

Therefore, order with confidence any item from us. If, for any reason, you later wish to return it you may do so for a full refund.

We only ask that you package it for return in the same manner it was sent to you.

Basically, we set a limit on return to thirty days after it arrives but would extend that time period under reasonable circumstances.

If you do wish to return an item please contact us before you ship it so we know it's coming.



Shipping and Handling


We ship hundreds of items each year via UPS.

Our packaging follows recommendations from UPS. Each items is fully insured and tracking of your package is available on the internet.



NOW! FREE SHIPPING ON MOST WEBSITE ORDERS!

We now offer free shipping on orders over $100.00 shipped to a single address.

EXCLUSION

We cannot extend free shipping to items that require special handling. These items include pottery, framed art and sculpture. These items require special packing and must be double boxed. If you want to order such items and would like to know what shipping will be either call or send us an email. You may also go ahead and place your order and check the "Inform me of shipping costs" box on the order form. We will not complete your order until you have ok'd the shipping costs.

In an effort to save you as much money as possible we suggest you contact us for shipping and handling costs. If you order more than one item we many times can include all of them in one box and save on shipping costs. For example, several posters or prints can be shipped at the same cost as one.

Our shipping costs are based on the cost of shipping materials, shipping costs, and a small charge for packaging.

We can gift wrap a package and ship it directly to the recepient of the gift.

We accept Visa, Mastercard, and personal checks.

We can arrange for time payments - no interest - inquire for details.



How to Order


We have an online, secure, order form which will allow you to order online.
To go to the order form click here.



We also encourage you to contact us by email at gallery@rieckesbaysidegallery.com, by phone at 406 837 5335 or by mail. This phone number rings into both the gallery and our home so you can reach us almost all the time.

The gallery is a family business. Tammy and I own it. We're open seven days a week and we receive our phone calls and email both at the gallery and at home. We don't have an answering machine so contact us at your convenience and chances are you will get one of us. We'll answer any questions you may have, give you the shipping and handling costs, and get the order on its way.
© 2000 - Riecke's Bayside Gallery - All Rights Reserved